Home
---
Making it to the Semi-Finals
I'm happy to report, as some of you know, that I made the semi-finals! Its always tough swimming your best in the morning, and fortunately, I didn't need to, like I needed to in Beijing four years ago. The bad news is, the 100 fly is pretty competitive, and I still needed to throw it down in the morning. I made some petty mistakes which I'm going to fix for tonight's semi-final swim, but I figure it wont need to be a whole lot faster than a 51.90 to make it into the finals for tomorrow night.
Toughest thing about racing here…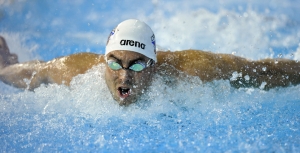 Seeing champions not make it out of the preliminary rounds of the Olympics, always amazes those who intensely follow swimming. On the first day of swimming, we saw Hungary's Laszlo Cseh and Germany's Paul Biedermann not make it into the finals in races they'd normally make it into. It has happened to many other top athletes here in London. Why?
100 Butterfly and Pre-Race Ritual (August 2nd)
In the hallway in front of my apartment door, there reads a sign: "Stress and tension is something we create on our own. You've already made the Olympic Games, look at it as an opportunity and challenge!" … Opportunity and challenge… I like that.
Waiting for my next opportunity…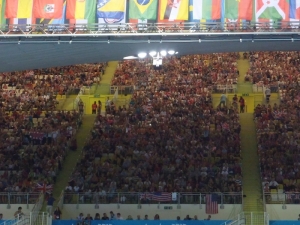 In my free days, I usually sleep in and go to the Olympic park's practice pools, "Eton Manor", to avoid the heavy traffic of the competition pool. It has three temporary 50 meter –Olympic size- swimming pools where we can go to, to work on anything we need.
First ever Serbian Olympic relay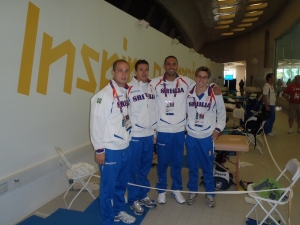 Despite our 13th place finish, it's quite an accomplishment for Serbian swimming that we qualified a relay at the Olympic Games, at all! The Olympic Creed states, "The most important thing in the Olympic Games is not to win but to take part, just as the most important thing in life is not the triumph but the struggle. The essential thing is not to have conquered but to have fought well."… And in the name of our country, fought well, we did!
Life in the village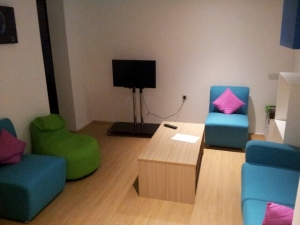 For security reasons, I have to say that we're not supposed to give too many details about the village, nor are we allowed to post photos of the village, until the Olympics are all over… but I'll do my best to let you in on what I can say!
Opening Ceremony
The opening ceremony kicks off tonight and it should be pretty exciting to watch, as always. It turns out, the loud "Ibiza" music played at night was a rehearsal for the ceremony, and I expect there will be some helicopters included in the show, since they've been flying back and forth all day the last couple days.
New pictures from village
Check out my blog and gallery page I will be updating my website everyday.
Pre-Olympic Training Camp
The Olympic-bound swimmers of Club Wolverine are taking their talents to Santa Olaya, Spain for 9 days for acclimatization before going to London!
This list of swimmers includes: China's Wu Peng, Ireland's Barry Murphy, Trinidad and Tobago's George Bovell, Barbados' Bradley Alley, and myself, along with coaches Mike Bottom and Mark Hill.
A race is a work of art that people can look at and be affected in as many ways as they're capable of understanding.

Steve Prefontaine
Cavic breaks Phelps record
Milorad Cavic, 50 m Zlatna Medalja ,Rim 2009
100m Butterfly final - Beijing 2008